I had to double check to make sure I did actually type "Cranberry Orange Cream Scones" and not "Heaven On A Plate". My husband's grandmother,
Grandma B
, has been visiting from Nebraska for about 3 weeks. We had the privilege of having her come to our home and spend the day with us.
Grandma B
is originally from England, so I was trying to think of some sort of a yummy English snack that I could serve during our visit. Naturally, I thought of scones. I searched high and low on the internet for a yummy scone and finally found this recipe on
House of Annie
. These scones turned out beautifully and so tasty! They have a ridiculous amount of butter in them which makes them very moist. The original recipe called for currants, with a substitute of cranberries and orange. Obviously, I chose to go with the cranberries and orange. I can't help it...I have a thing for cranberries. =) By the way, the scones were
Grandma B
approved, so they're safe for you to make!
Cranberry Orange Cream Scones
Prep: 15 mins; Bake: 12-15 mins
Makes: 8-16 servings
2 cups (10oz) unbleached all-purpose flour
1 Tbsp baking powder
3 Tbsp sugar (more for sprinkling)
1/2 tsp salt
5 Tbsp (2.5oz) cold, unsalted butter
1/2 cup dried coarsely chopped cranberries
1 Tbsp grated orange zest
1 cup heavy cream (more for brushing)
Preheat oven to 425 F
Place flour, baking powder, sugar and salt in a bowl and mix. Cut in butter until it resembles coarse meal.
Add cranberries and orange zest. Mix. Gradually pour in heavy cream about 1/4 cup at a time and lightly mix until the dough comes together in a shaggy ball. It will still have lots of loose, sandy pieces. If you think it's too loose and sandy, you can add a little bit more cream without affecting the outcome.
Place dough on a floured surface ad roughly work it into a ball.
Press the ball down into a rectangular shape.
Fold the dough into thirds.
Press the dough down again into a rectangular shape in a vertical position and fold into thirds again. The less you work your dough, the flakier it will be.
Press the dough down into a circle. Cut into 8 large or 16 small triangles. (Trust me when I say that cutting into 16 triangles is a waste of time. These are so good that you will eat two little ones. You may as well go for one big one.) =)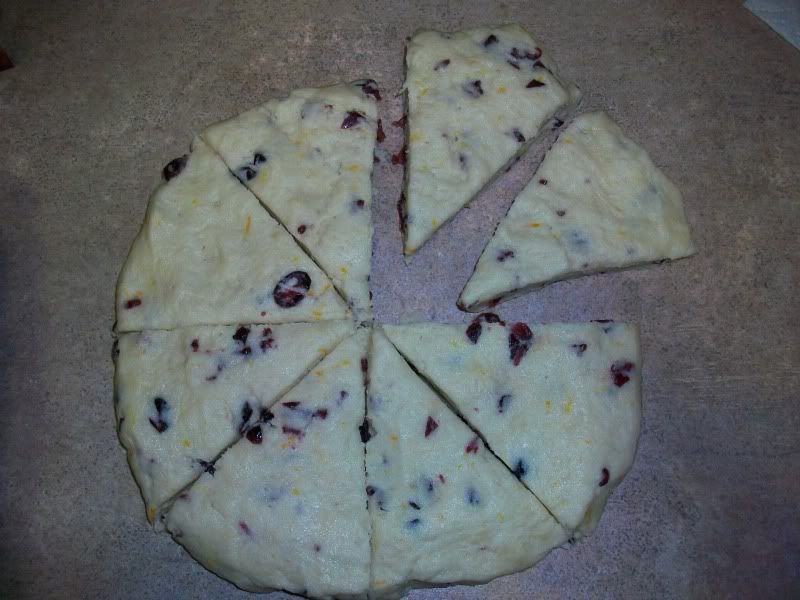 Separate the individual scones and place them on a baking tray that is lined with parchment paper. (I put mine on a well seasoned baking stone without the parchment paper.)
Brush the top of the scones with cream and then sprinkle each one with a little sugar.
Bake for 12-15 mins until golden brown on top.
Also linking up at: